Premiere: Crossing The Line Festival/ fiaf NYC, Theatre de la Cite Internationale, Paris France, 2013. Presented with the Hermès Foundation's "New Settings" program.
Performances at Saratoga Film Forum Saratoga Springs NY 2013, Museum of Contemporary Art Santa Barbara, CA, Automata Arts LA, CA, Columbia University Graduate School of Architecture/ Barnard NYC 2014, OnEdge Festival Chicago Ill, University of North Texas Art Gallery, Denton TX, Kean Theater Drew University Madison NJ, 2015.
You can watch a 10-minute excerpt here:
https://vimeo.com/145742145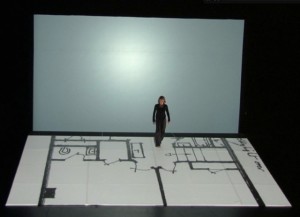 Buildings are unstable, memory a force to be reckoned with. "Urban Renewal" is a multimedia solo performance on perception, public policy, and the significance of the buildings we live in, from a child's rigorously unsentimental point of view. "Urban Renewal" maps an experience of growing up in Chicago in the chaotic 60s, caught in the crosshairs of power and history. The performance vividly animates childhood on a block razed by the last demolition of urban renewal in Hyde Park, the devastating aftermath and a brutal coming-of-age, in a polyvalent conversation with world history and the land we live on.
Concept, texts, set and video design, direction, performance Kyle deCamp, Video design Joshua Thorson,  Sound design Travis Just, Light design Scott Bolman, Set engineer Joseph Silovsky, Outside eye Yehuda Duenyas